New ICS2 Requirements for Air Export ✈️ to/via EU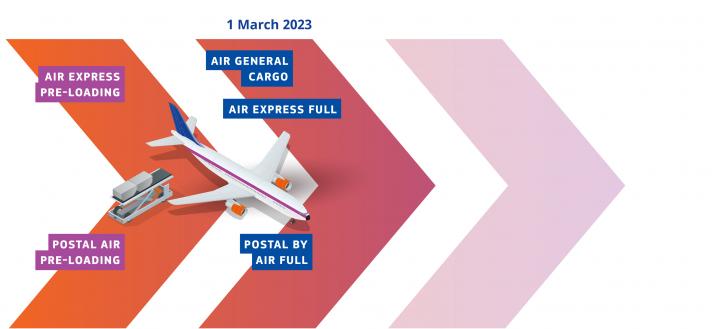 IMPORTANT : New requirements ICS2 – (Import Control System) for all shipments to or via EU Member states
From 01 March 2023, the European Union (EU) will implement the Release 2 of its new "Import Control System" (ICS2), resulting in Pre-Loading Advance Cargo Information (PLACI) requirements for all airfreight cargo carried to or via EU Member States.
Within the scope of the requirement, Airlines transporting cargo consignments to or via the EU Member States and territories, Switzerland, Norway and Northern Ireland by air have to comply with the new data reporting requirements. Please be advised that your active involvement is necessary for the ICS 2 regulation's changes to be introduced successfully.
The provision of HS codes (minimum 6 digits) in addition to goods description will become mandatory for the shipments to or via EU.
Consignee EORI will be mandatory to comply with the UCC (Union Customs Code) requirements.
Please be noticed the mandatory data (HS Code and Consignee EORI) must be included in your FWB and FHL message. Please also be informed that shipments which have failed to provide these data may have negative consequences. Hence the customer must provide the respected data to avoid any irregularity such as offloads and/or customs penalties.
Further detailed information, you may access official information on the EU ICS2 including its release 2/PLACI program is available on the following EU Commission webpage:
https://taxation-customs.ec.europa.eu/customs-4/customs-security/import-control-system-2-ics2-0/import-control-system-2-release-2_en
It is important therefore that our customers & partners take notice and action on this not to face problems, penalties, and unnecessary storage costs.